Who is Auto-Wares?
Auto-Wares is a group of companies in the automotive parts aftermarket business. We are a distribution company headquartered in Grand Rapids, Michigan. Auto-Wares has been providing the complete parts needs for jobbers since 1976. Auto-Wares is made up of a group of companies all providing you specialization in inventory, product knowledge, and programs!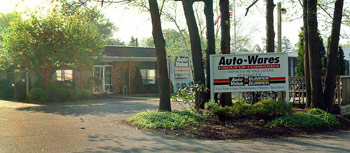 OUR BUSINESS PHILOSOPHY
Auto-Wares is a full-service, full-line, full-program supplier who believes in honesty and integrity in all our business dealings. We like to treat customers, employees, and vendors all like friends and business partners.
OUR CUSTOMER
Auto-Wares is dedicated to selling to the independent jobber. He is our past and our future. Auto-Wares re-supplies and services over 600+ auto parts stores. Our company direction is planning and building for the long term. We are interested in long-term, mutually beneficial relationships with our customers. Our company goal is to be our customer's best supplier. We believe the best way to say "thank you" is to give our customer a reason for staying serviced by us.

MARKETING
Auto Value/Bumper to Bumper parts stores marketing awareness and marketing effectiveness doesn't happen by chance, it happens by choice -- and it's the choice of Auto-Wares, through our Auto Value or Bumper to Bumper program, to provide the most effective marketing plans from the jobber to the end user.
GROWTH
Auto-Wares' growth pattern is 10+% every year. Our annual sales have grown from 1-1/2 million the first year to 275+ million this year. Our sales mix is 55% independent jobbers, 45% company stores. Auto-Wares has never missed a cash discount and never had an unprofitable year.
TRAINING
Technical training and new product seminars are held throughout the year. We sponsor numerous manufacturer's technical and management seminars. We are dedicated to providing product, management, and training to our customers. Ask us about our Tech Expo.